The thermal imaging survey
Method of thermal imaging survey - shooting an object (buildings, structures, their elements or elements of engineering support systems) in infrared rays. The method of conducting and decoding of thermal images is defined by GOST 26629-85 "method of THERMAL QUALITY control THERMAL INSULATION OF ENCLOSING STRUCTURES".

Thermal imaging inspection of objects is an effective way to detect defects at an early stage, reducing the cost of technical inspection and defect detection. We use thermal imaging as one of the elements of an energy audit.
Thermal imaging diagnostics of boilers and heat stationswill allow you to detect heat leaks, defects and temperature measurement at any point in the image and get thermograms of equipment and pipelines; identify defects in brickwork and boiler lining; monitor, test and adjust the combustion modes of boilers, furnaces and other equipment.
Examples of thermal imaging surveys and results of their transcripts:
Thermal imaging survey for quality inspection of construction and installation works

When performing thermal imaging surveys, the company has gained some experience in using a thermal imager to inspect the quality of construction and installation work. This experience concerns the quality of installation of:

Reinforced-plastic windows and doors;
Thermal insulation / insulation of enclosing structures;
"Warm" floors / floor heating systems;
Other elements of buildings and structures made using modern technologies.

Diagnostics of electrical networks

Together with the electrotechnical laboratory of the municipal enterprise "City electric networks" in Kuznetsovsk, thermal imaging of elements of electric networks was carried out in order to gain experience in technical diagnostics of electric networks.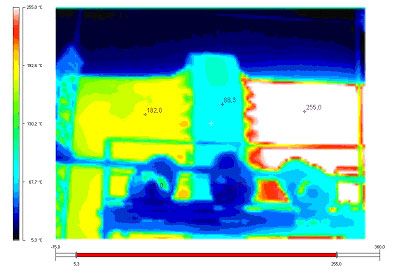 Rotating furnace at one of the enterprises of the construction industry in Vinnytsia. At a shooting temperature of about 0 ° C, the specific heat flux from the surface of a rotating furnace with a temperature of 255 ° C is 4190 W (3600 kcal/hour) with a furnace diameter of 2.5 m and a zone length of 6.2 m with a temperature of 255 ° C, heat loss to the environment is 204 kW (175,200 kcal/hour). When the burner efficiency is 87%, 25 n.m3 of natural gas is lost per hour.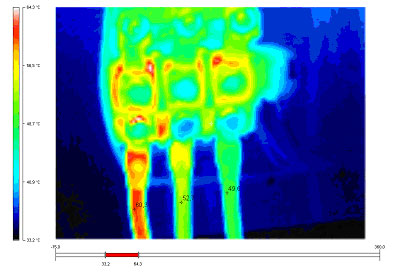 Introduction and distribution device of a boiler house of one of the budgetary institutions of the Rivne region. The phenomenon of "phase misalignment" was detected. Phase "A" is overloaded, its wire temperature is +60 oC, while the wire temperature of phases "B" and "C" is 53 and 50 oC, respectively. Overloading phase "A" may cause the phase fuse or switching device to fail.