Partners
SUBSIDIARY ENTERPRISE "BTS-ENGINEERING» has partnership and cooperation agreements with a number of well-known and respected organizations in the Ukrainian and international markets:
OOO "Riverst" (Ukraine)
We have more than ten years of experience in various industries with equipment for industries that require durability and reliability (alcohol, food, petrochemical, metallurgical, water treatment and heat power).
We offer pumping equipment:
centrifugal pumps (horizontal, vertical);
"in-line" pumps for heating and water supply systems;
deep water pumps;
fecal pumps;
metering pumps (diaphragm, plunger);
chemical pumps (polypropylene, Teflon, stainless steel);
pneumatic pumps (can be used in explosive industries).
---

SP-Teploobmen (Ukraine)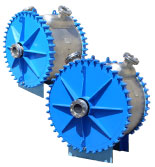 Spiral heat exchangers are used in alcohol, food, pharmaceutical, petroleum, chemical, housing and other industries where high-efficiency heat exchange is required. At alcohol enterprises, the use of spiral heat exchangers can dramatically reduce the amount of water consumed.
Advantages of spiral heat exchangers:
high heat transfer coefficient;
robust design;
small footprint;
self-cleaning capability;
ease of maintenance.
---
Mechanical seals (Ukraine)
The mechanical seal is the most advanced and efficient sealing device for rotating pump shafts. Mechanical seals completely prevent leakage of the pumped liquids and prevent serious accidents.
The ubiquitous transition in the design of centrifugal pumps from stuffing boxes to compact mechanical seals has increased the efficiency of pumps, and the use of hydraulic pumps can provide a minimum run-up of the rotor in the axial direction. High-quality mechanical seal provides a noticeable reduction in the energy consumption of pumping units and complexes.
---

ETATRON D. S. (Italy)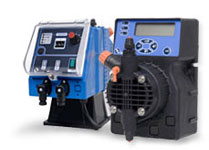 ETATRON-UKRAINE LLC is a representative of the Italian manufacturer of ETATRON D. S. dosing equipment in Ukraine. For years of work on the Ukrainian market the company has gained a good position and good feedback from their clients and customers.
The company offers equipment from warehouses in Rivne, where the main series of metering pumps, controllers, sensors, electrodes and various accessories are always available.
ETATRON D. S. is an Italian manufacturer of metering equipment and systems: membrane metering pumps, metering pumps, industrial chemical metering pumps, automatic metering and control systems.
---

DEBEM (Italy)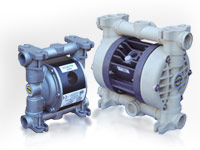 Chemical pumps are designed for pumping various aggressive liquids, so their main areas of application are the chemical and petrochemical industries (pumping acids, alkalis, petroleum products), paint and varnish (paints, varnishes, solvents, etc.) and the food industry (pumping molasses, etc.).
---

Viessmann (Germany)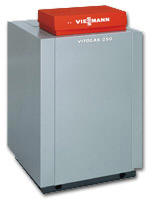 Viessmann industrial group is the largest manufacturer of world - class heating systems (boilers, water heaters, automatic control systems).
The production program includes a wide range of boiler heating equipment with a capacity from 1.5 kW to 19,400 kW. It includes: Viessmann floor-and wall-mounted boilers, Viessmann gas-fired boilers, liquid-fuel boilers, and low-temperature and condensate-type devices. Viessmann has expanded its range of energy systems that use renewable energy sources, such as heat pumps, solar-powered systems, wood pellet boilers, etc.
---

Danfoss (Denmark)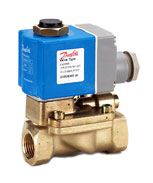 Danfoss is one of the largest industrial concerns in Denmark. The Danfoss group is a global leader in the development and production of regulation and accounting systems.
Danfoss group's business is focused on three main areas, where Danfoss occupies a leading position in the market:
thermal automation;
refrigeration equipment;
drive engineering.
---

WILO (Germany)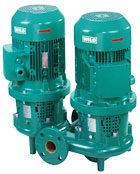 WILO SE is one of the leading manufacturers of pumps and installations for heating, air conditioning, ventilation, water supply and sanitation.
Pumps of the leading German company Wilo appeared for the first time on the Ukrainian market in 1993.
---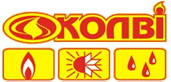 Kolvi (Ukraine)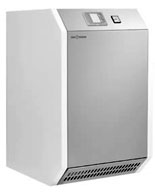 ''COLVI'' Corporation is a system of production, sales, and service of heating and gas equipment with minimal costs and maximum efficiency.
All boilers are equipped with modern burner devices of European manufacturers, gas control and gas distribution units are equipped with gas equipment of the company "Tartarini" (Italy).
More than 220 types of boilers, including parapet, wall-mounted, floor-standing boilers, modular, block-transportable boilers, domestic and industrial gas distribution points, gas distribution stations. The only research base in Ukraine, among manufacturers, that includes a certified laboratory for the development and testing of boiler equipment.
---

Ankor-Teploenergo (Ukraine)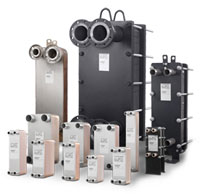 "Ankor-Teploenergo" is the largest Ukrainian manufacturer of plate heat exchangers and equipment based on them.
---

Teplotekh (Ukraine)
"Teplotech" is the official representative of Max Weishaupt GmbH in Ukraine.
The weishaupt burner is a reliable and well - shaped design with a long service life.
Tested materials, serial production and multi-level control guarantee European quality. Thanks to the high efficiency of the weishaupt burners, the thermal energy of the fuel is fully used, which significantly reduces fuel costs.
---

SEMPAL (Ukraine)
"SEMPAL" develops and manufactures high-precision ultrasonic water and heat meters SVTU-10M, as well as temperature controllers, heat meters, water meters and additional related equipment.
With high reliability, heat and water meters manufactured by SEMPAL have been successfully operated in more than 200 cities since 1994 at various facilities - from residential buildings, schools and hospitals to large industrial enterprises, boilers and thermal power plants.
---